.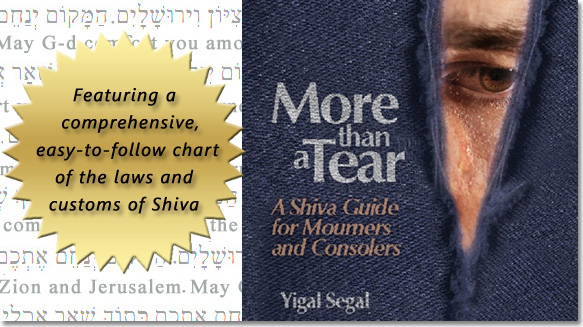 A Shiva Guide for Mourners and Consolers
Shiva is one of the most recognizable terms in Judaism, and a practice that almost every Jew has experienced in one way or another. Nonetheless, few are prepared for Shiva before they experience it.
This guide is designed to help the mourner navigate this difficult time in life, and to guide the consoler through the Mitzvah of comforting a grieving friend or relative.
By Yigal Segal
Foreword by Dr. Marc Singer

FROM THE INTRODUCTION:
A Shiva visit is truly one of Judaism's most difficult-to-master acts of kindness. At first glance you might wonder, "What's the big deal about paying a Shiva call? All I have to do is walk in, sit down for a few minutes and express my condolences." It sounds simple, but even with the best of intentions, you might say something improper or ask inappropriate questions. Out of embarrassment, you might opt for condolence cards or in memoriam donations from then on. Ultimately, that might deprive another mourner of your empathic presence.
ABOUT THE AUTHOR:
Yigal Segal received a Masters Degree in Administrative Science from Johns Hopkins University and was ordained by the Ner Israel Rabbinical College in Baltimore, Maryland. After serving for five years as the Director of Development of the Torah Day School of Atlanta, Georgia, he launched the Jewish Literacy Foundation in 1998.
Yigal lives with his wife and children in Jerusalem. He encourages feedback, questions, and comments via email at guidetoshiva@gmail.com

p.11 Your natural response to grief is the right response for you. It doesn't matter what you or others expect. It doesn't matter what conventional wisdom dictates. The way you grieve is the way you need to grieve. This insight is crucial if we are to understand a mourner's mindset. Everyone grieves differently, no matter what circumstances cause the grief.

p.40 The key to true comfort: making mourners feel – not hear – that we are with them. We don't try to understand their grief; we try to help them understand it in their own way. We want to give mourners the help they need, not the help we think they need.